Land Of The Northern Lights
Magellan Sails From London Tilbury
Monday 30th October, 2017
An atmospheric display of green and pink light dancing across the inky dark sky, the spectacular Aurora Borealis is one of nature's most extraordinary wonders. This exciting voyage follows Norway's coastline calling at idyllic fjord villages and charming towns. You'll venture high into the Arctic Circle in search for the Northern Lights and, if atmospheric conditions are right, the chance to witness this amazing phenomenon. 
Itinerary
Date
Port
Arrive
Depart
 
30/10/17
London Tilbury (United Kingdom)
-
1600
31/10/17
Amsterdam (Netherlands)
0900
1500
 

With more bicycles than permanent residents, the Dutch capital is both charming and quirky. Aesthetically little has changed in the centre since its 17th century Golden Age. Beautiful gabled houses and merchants' mansions line serene, tree-lined canals, which are laid out in five concentric circles and crossed by numerous bridges. The Royal Palace, originally built as a Town Hall in the 17th century, stands on a large square in the centre of the city. Considered one of Europe's major art capitals, Amsterdam is home to a number of superb galleries and museums including the famous Rijksmuseum, the Anne Frank House and the Van Gogh Museum.

01/11/17
At Sea
-
-
02/11/17
Olden (Norway)
1130
1900
 

The southernmost of the three short branches at the inner end of Nordfjord terminates in Olden. The charming village sits amongst tidy, well-kept farms on gently sloping, fertile hillsides, which then rise steeply into thickly wooded and rugged peaks. From the village the beautiful Oldendalen Valley runs between towering mountains to the edge of the mighty Jostedalsbreen Glacier. Briksdal Glacier is one of the more accessible arms of the Jostedalsbreen. The creeping pitted tentacle of ice features in optional excursions from Olden together with glorious waterfalls, glacier fed rivers and wonderful mountain lakes.

03/11/17
Kristiansund (Norway)
0830
1600
04/11/17
At Sea
-
-
05/11/17
Alta (Norway)
0900
(0100)
 

The largest town in Finnmark, Alta stretches along the inner part of the Altafjord and on the banks of one of Norway's best rivers for salmon fishing, the Alta River. Today's town has three centres. Bossekop with its old trading and market traditions, Elvebakken to the east with the town's airport and harbour, and the new town with its shops. Large areas of woodlands and parts of the high plateau of Finnmarksvidda surround Alta, which in summer enjoys the white nights of the midnight sun and of a winter night often has the northern lights dancing across its skies.

06/11/17
Honningsvåg (Norway)
1000
1700
 

Though Norwegian law states that a city in Norway must have 5,000 inhabitants, tiny Honningsvaag, a community of around 2,500, is one of the smallest cities in Norway having been granted this status in 1996. The 'city' lies on the south-eastern side of a large island called Magerøya in the Barents Sea. It is the starting point of excursions to the dramatic North Cape where from a high plateau the monumental 307-metre high cliff plunges into the Atlantic. From here only endless ocean lies between the northernmost point of Europe and the North Pole.


07/11/17
Tromso (Norway)
0800
2000
 

Not surprisingly for a city that lies almost 220 miles north of the Arctic Circle many of Tromsø's landmarks lay claim to the world's 'northernmost' titles. The 'Capital of the Arctic' is home to the world's northernmost university, cathedral, botanic garden and brewery. A cable car runs to the summit of Mount Storsteinen from where there are wonderful views of the lively and beautiful city built on two islands and the mainland, which are linked by both tunnels and bridges. The Polar Museum is just one of Tromsø's fine museums and the striking Arctic Cathedral is undoubtedly a highlight.


08/11/17
At Sea
-
-
09/11/17
Trondheim (Norway)
0800
1900
 

Past and present times live together in harmony in Trondheim, located in central Norway. The architecture and surroundings create a beautiful setting. The city is home to a rich variety of historical sites, museums and art galleries.
The Nidaros Cathedral was built over the grave of St. Olav, Norway's patron saint whose reputation shone far beyond the borders of his country. The Cathedral has an impressive West Wall, richly ornamented in stone with magnificent stained glass windows. It is a sight to behold and a 'must see' for any visitor to Trondheim.

10/11/17
Åndalsnes (Norway)
0830
1800
 

Åndalsnes lies at the end of the 88-kilometre long Romsdalfjord at the mouth of the River Rauma. The river, which flows through the Romsdal Valley, was one of the first rivers in Norway to attract British aristocrats and other fly fishing foreigners at the end of the 19th century. The small town is today the administrative centre of Rauma in Norway's Møre and Romsdal district. Optional excursions feature the beautiful Romsdal Alps with the famous Troll Wall and spectacular winding Troll Path Road. Åndalsnes is also the start of the incredible Rauma Line, a vintage steam train journey through enthralling mountain scenery.

11/11/17
Bergen (Norway)
1000
1900
 

Known as the 'Gateway to the Fjords', Bergen is Norway's second largest city. Yet with a population of less than a quarter of a million, it has the feel of a small town. It is beautifully sited against a backdrop of seven mountains and the funicular ride to the summit of Mount Fløien affords wonderful panoramic views of Bergen and Norway's attractive coastline. Overlooking the harbour the colourful Bryggen wharf is the face of Bergen. The characteristic wooden gabled buildings were once the home and offices of Hanseatic merchants but today house shops selling crafts and traditional souvenirs.

12/11/17
At Sea
-
-
13/11/17
London Tilbury (United Kingdom)
0800
-
Note: In the event of adverse weather/sea conditions that prevent the ship from calling at one of the scheduled ports, alternative arrangements will be made where possible.
Cat.
Description
Full Fare
Saver Fare
Saving
IG
Voyager Inside Guarantee

£1919
£999
£920
1
Standard Twin Inner

£1989
£1049
£940
2
Standard Plus Twin Inner

£2199
£1099
£1100
3
Superior Twin Inner

£2469
£1234
£1235
4
Premium Twin Inner

£2609
£1304
£1305
OG
Voyager Outside Guarantee

£2659
£1299
£1360
6
Standard Twin Ocean View

£2739
£1369
£1370
7
Standard Twin Ocean View

£2809
£1404
£1405
8
Standard Twin Plus Ocean View

£2949
£1474
£1475
9
Superior Twin Ocean View

£3289
£1644
£1645
11
Superior Plus Twin Ocean View

£3569
£1784
£1785
12
Premium Twin Ocean View

£3839
£1919
£1920
JS
Junior Suite

£6169
£3084
£3085
DS
Deluxe Suite

£6849
£3424
£3425
RS
Royal Suite

£7539
£3769
£3770
Single Cabins
5
Superior Single Inner

£3089
£1544
£1545
7S
Standard Single Ocean View

£3519
£1759
£1760
8S
Standard Plus Single Ocean View

£3689
£1844
£1845
10
Superior Single Ocean View

£4109
£2054
£2055

3rd/4th person sharing - £419
Travel insurance from - £36
Port parking - £154
Deposit per person - £200
Magellan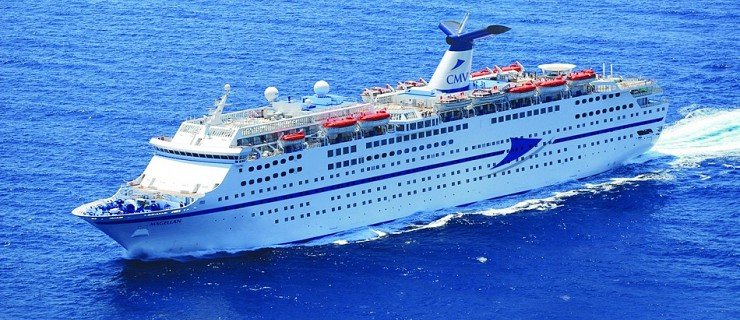 Magellan is the proud new flagship of the CMV fleet and like Marco Polo and Azores operates as an adult friendly ship. At 46,052grt she will carry about 1250 passengers accommodated in 726 cabins spanning nine passenger decks serviced by eight lifts. Her wide corridors and stairways and expansive deck areas with wood type decking in many areas exude a real feeling of spaciousness with a wide range of comfortable well appointed lounges and panoramic seating and observation areas ideally suited to our scenic cruise programme.

Magellan boasts a spacious interior, with wide corridors and expansive wooden deck areas providing comfortable surroundings for guests. However, the ship still provides an intimate atmosphere, with a huge range of leisure facilities, including bars and lounges, as well as multiple dining options.

Combining expansive, comfortable surroundings and friendly service with stylish entertainment and delicious cuisine, Magellan is the perfect choice for those looking for a greater range of on board facilities. However, she still retains a feel of intimacy and personal attention when compared with the 'mega' resort style ships built today. No climbing walls or ice-skating rinks and no kids!

Exclusively for adults

For the enjoyment of our adult passengers, Magellan cruises operate as 'child free'. This means that even during school holiday times you can enjoy the pleasures of cruising in the company of adult passengers only. We will however accept teenagers who are 16 years old or above at the time of sailing but they must be accompanied by adult passengers.
RESERVATION ENQUIRIES
Please fill out the form below and we will get back to you as soon as possible.
What's Included

Delicious full board cuisine. 
Afternoon teas and late night snacks. 
Captain's Cocktail Party (cruises of 6 nights or more). 
Self service tea & coffee (6am to 10pm). 
Big show entertainment, cabarets and classical interludes. 
Daytime activities and leisure facilities. 
Guest speaker and arts & crafts (cruises of 5 nights or more). 
Porterage of luggage, port to cabin. 
Port Taxes.